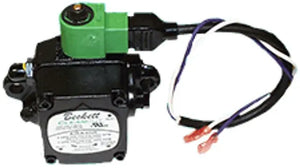 The oil pump for the 21st century:
Developed in co-operation with SunTec Industries, combines the clean burning benefits of a solenoid valve with the hefty lift capabilities of traditional American pumps. The solenoid valve cuts the oil flow almost instantly when power is cut to the motor, eliminating coasting stops that can cause soot formation on shut-down.

There are few moving parts compared to conventional pumps and fewer troublesome oil fittings to cause problems. the clean cut reduces demands on the motor during start-up by allowing oil to freely bypass the pump's pistons.

Clean cut pumps utilizes the same piston valve used in traditional pumps to provide the same level of protection from leak through in gravity feed situations.

NOTE:The clean cut is designed to be operated with modern electronic controls and must be used with a pre-purge or "valve-on" delay, such as Beckett PD Timer. Controls without a delay will produce hard starts.
SPECIFICATIONS:
HYDRAULIC DATA:
Nozzle Pressure Range: 100-200 PSI

Factory Set Pressure: 100 PSI

Operating Fluids: #2 and lighter fuel oils, viscosity 1.4-12cSt, 0-25 degrees C/32-77 degrees F in the pump

Inlet Pressure: 10 PSI maximum

Return Pressure: 10 PSI maximum

Suction Height: One pipe: 8' maximum Two pipe: 14' maximum

Rated Speed: 3600 RPM maximum

Breakaway Torque: 36" oz. maximum

SOLENOID VALVE CHARACTERISTICS:

Voltage: 24, 12VDC

Power consumption: 9 Watts

Ambient Temperature: 155 degrees F./46 degrees C.

Maximum Pressure: 200 PSI

Certification: UL, CUL (50 Hz not UL certified)